September 09, 2016
Obesity May Increase Survival in Metastatic Renal Cell Carcinoma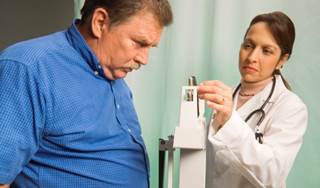 Overweight and obese patients with metastatic kidney cancer lived longer than normal-weight patients.
HealthDay News -- Obesity may increase survival for patients with metastatic renal cell carcinoma, according to a study published online September 6 in the Journal of Clinical Oncology.
In one database of 1975 patients with metastatic renal cell carcinoma, those who were obese or overweight survived 25.6 months, compared to 17.1 months for those of normal weight. And, overweight patients were 16.0% less likely to die during the study period, the researchers reported. Similar findings were uncovered using 3 other databases. The records of more than 7000 patients with renal cell carcinoma were reviewed by the study authors.
"Paradoxically, when overweight individuals developed kidney cancer, especially in its advanced, metastatic form, their disease progressed more slowly and they lived longer than their normal-weight counterparts," lead researcher Toni Choueiri, MD, director of the Lank Center for Genitourinary Oncology at the Dana-Farber Cancer Institute, Boston, Massachusetts, told HealthDay.
Dr Choueiri's team could not find any differences in the tumors' DNA, such as gene mutations, that might account for the finding. But they did find that a difference in the rate at which genetic information was used by the cells to make proteins in fatty acid synthase (FASN) was decreased in obese patients, compared with normal-weight patients.
High levels of FASN have been found in many types of cancer and are associated with poor outcomes, including in renal cell carcinoma, Dr Choueiri said. The decreased amount of FASN in obese and overweight patients with renal cell carcinoma might explain the better outcomes of these patients, he suggested.
Reference