February 10, 2015
Primary Care Intervention Improved Exercise, Weight Loss in Women
the Endocrinology Advisor take:
A primary care-based led by an interventionist may be more effective for weight loss and increasing physical activity among overweight, middle-aged women when compared with a self-guided program, according to data published in the Journal of General Internal Medicine.
Study results also showed that obese, middle-aged women who participated in an exercise program based at their primary care doctors' offices were more likely to continue to exercise over several months vs. those who were participating in a self-guided program.
"Women who participated in programs in their doctor's office had a structured environment allowing them to focus on their lifestyle habits like eating and exercising, and make changes," Molly Conroy, MD, MPH, associate professor of medicine, epidemiology, and clinical and translational science at the University of Pittsburgh Schools of the Health Sciences, said in a press release.
The Healthy Bodies Healthy Hearts study included 99 inactive, overweight women aged 45 to 65 years at three University of Pittsburgh Medical Center primary care offices.
Women were then randomly assigned to one of two groups. One involved 12 weekly sessions comprised of 30 minutes of discussion and 30 minutes of moderate-intensity exercise conducted at the participants' primary care physicians's offices. The other was a self-guided group that received a manual for independent use.
Weight and physical activity, as assessed by the Modifiable Activity Questionnaire, were evaluated at 0, 3 and 12 months.
After 3 months, women in the primary care-based intervention group had significantly higher levels of physical activity, including walking at a moderate pace, that translated to improvements equal to about 90 minutes per week vs. women in the self-guided group, who only improved by about 30 minutes per week.
After 12 months, activity levels dropped in both groups, with the participants in the self-guided program group returning to pre-intervention activity levels. Women in the primary care-based intervention group, however, were still more active than pre-intervention by about 60 minutes of exercise per week.
"These outcomes imply that primary care-based interventions can be very beneficial to keep sedentary women motivated for several months. Many indicated their confidence was higher and that they felt more comfortable exercising with support. Follow-up sessions could help women over the long-term," Dr. Conroy said.
"Future efforts should focus on finding the best way to sustain that activity, using resources available in the primary care setting."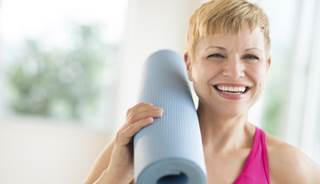 Primary Care Intervention Improved Exercise, Weight Loss in Women
BACKGROUND: Physical inactivity is a significant risk factor for cardiovascular disease and remains highly prevalent in middle-aged women.
OBJECTIVE: We hypothesized that an interventionist-led (IL), primary-care-based physical activity (PA) and weight loss intervention would increase PA levels and decrease weight to a greater degree than a self-guided (SG) program.
INTERVENTIONS: The interventionist-led (IL) group (n = 49) had 12 weekly sessions of 30 min discussions with 30 min of moderate-intensity PA. The self-guided (SG) group (n = 50) received a manual for independent use.
Sign Up for Free e-Newsletters
Check out what's trending
CME Focus