July 01, 2016
Obesity Common in Military Service Members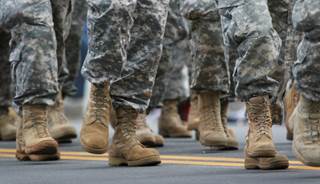 Obesity is prevalent among US military service members and veterans.
(HealthDay News) — One in 5 US military service members are obese, according to a study published in the July issue of Obesity.
Toni Rush, MPH, of the San Diego State University, and colleagues analyzed data compiled on 42,200 current and former military personnel from 2001 to 2008.
The researchers found that 25% of participants were of normal weight in 2007-2008. Obesity affected 32% of veterans and 20% of active service members, rates that doubled over the 7-year period. Those who were obese were significantly more likely to be male, older, less educated, in the Army or Navy, and no longer in the military.
The researchers also found that obesity among active-duty personnel as well as veterans is associated with depression, posttraumatic stress disorder, and other mental health issues. Hypertension, diabetes, and sleep apnea were also much more common among the obese participants.
"These findings indicate an urgent need to enhance strategies for preventing and reducing excess weight gain within the military and veteran populations," the researchers wrote. "Such strategies should aim to ensure a fit military force and promote health after military service."
Reference