July 20, 2016
Proinsulin-to-C-Peptide Ratio Associated With Progression to Type 1 Diabetes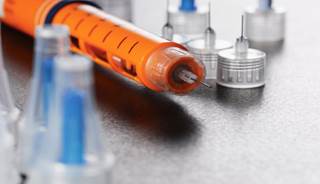 Elevation in proinsulin-to-C-peptide ratio may help predict the onset of type 1 diabetes.
(HealthDay News) – Elevation in the serum proinsulin-to-C-peptide (PI:C) ratio is associated with progression to type 1 diabetes, according to a study published in Diabetes Care.
Emily K. Sims, MD, from the Indiana University School of Medicine in Indianapolis, and colleagues examined whether elevation in the PI:C ratio correlated with type 1 diabetes. Samples were obtained about 12 months before onset of diabetes from 60 TrialNet Pathway to Prevention progressors in whom diabetes developed and 58 age-, sex-, and body mass index (BMI)-matched nonprogressors who remained normoglycemic.
The researchers found that, compared with nonprogressors, there was a significant increase in PI:C ratios in antibody-positive subjects in whom there was progression to diabetes (median: 1.81% vs 1.17%; P=.03). Subjects who were ≤10 years old had the most pronounced difference between groups; 90% of subjects in this age group within the upper PI:C ratio quartile progressed to diabetes development. The odds of progression were increased for higher natural log PI:C ratio values after adjustment for age and BMI (odds ratio: 1.44).
"These data suggest that β-cell endoplasmic reticulum dysfunction precedes type 1 diabetes onset, especially in younger children," the authors write. "Elevations in the serum PI:C ratio may have utility in predicting the onset of type 1 diabetes in the presymptomatic phase."
Reference