September 14, 2016
Anabolic Steroid Abuse in Young Men May Lead to Metabolic Syndrome, Diabetes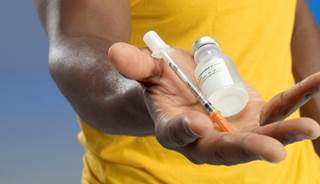 Abusing anabolic steroids may up risk for diabetes and metabolic syndrome.
Young men who were current or former misusers of anabolic androgenic steroids demonstrated reduced insulin sensitivity and more visceral fat than non users.
"Abuse of anabolic steroids is highly prevalent among young men and may have numerous adverse effects that go beyond the side effects on the reproductive system," said study investigator Jon Jarløv Rasmussen, MD, PhD, whose findings were presented at the European Association for the Study of Diabetes (EASD) 2016 Annual Meeting. "Furthermore, adverse effects following anabolic steroids may persist years after discontinuation."
According to Dr Rasmussen, of the Herlev Hospital, Copenhagen, Denmark, the study was the result of an observed increase at the institution's endocrinology clinic in young men who experienced side effects after abuse of anabolic steroids, such as gynecomastia and hypogonadism.
"A recent study suggests that approximately 18% of young men who are involved in recreational strength training have experience with abuse of steroids," Dr Rasmussen said. "However, scientific information regarding the adverse effects of these compounds is very limited and indicated to us that this area should be investigated."
The present cross-sectional, case-controlled study included 100 young men (age, 18-50 years) who were involved in recreational strength training. The study groups were current anabolic androgenic steroid misusers (n=37; mean age, 31.4 years), formermisusers (n=33; mean age, 34.8 years; mean years since AAS cessation, 2.6), and age-matched control participants (n=30; mean age, 31.5 years).
Researchers performed a 120-minute oral glucose tolerance test after at least 8 hours of overnight fasting, obtaining plasma glucose and insulin levels at the following 5 time points (in minutes): 0, 30, 60, 90, and 120.
Compared with the control group, present and former anabolic androgenic steroid misusers had a lower mean Matsuda index score, indicating impaired insulin sensitivity (current, 6.49; previous, 5.09; controls, 8.51).1
Lean body mass was greater in the current anabolic androgenic steroid misuser group (25.4 kg/m2; former, 21.9 kg/m2; controls, 21.3 kg/m2; P<.01), while total body fat percent was lower in the current anabolic androgenic steroid misuser group (14.1%; former, 19.4%; controls, 17.3%; P<.01).1
Furthermore, visceral adipose tissue volume was increased in current (388 cm3) and former (347 cm3) anabolic androgenic steroid misusers vs controls (290 cm3), whereas subcutaneous adipose tissue volume was highest in former abusers (962 cm3) followed by controls (748 cm3) and current misusers (546 cm3).1
"Even though our study was cross-sectional, the findings suggest abusers of anabolic steroids may be at increased risk of developing metabolic syndrome or maybe even diabetes years after discontinuation of anabolic steroids," Dr Rasmussen concluded. "A few cell and animal studies performed in the past suggested androgens in supraphysiologic doses could cause impaired insulin sensitivity, but we did not expect that former abusers of anabolic steroids would also have decreased insulin sensitivity years after discontinuation."
Dr Rasmussen and colleagues also recently published a report on the topic of abuse of anabolic steroids on testosterone levels in PLoS One.2
Disclosures: The researchers report no relevant financial disclosures.
For more coverage of EASD 2016, click here.
References
Rasmussen JJ, Schou M, Selmer C, et al. Poster 482 . History of anabolic androgenic misuse is associated with impaired insulin sensitivity and increased visceral abdominal fat among younger men. Presented at: EASD 2016 Annual Meeting; September 12-16, 2016; Munich, Germany.