September 15, 2016
Gestational Diabetes Recurrence Not Reduced With Supervised Exercise Program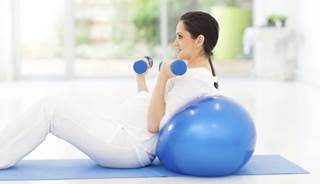 Recurrence of gestational diabetes was not reduced with a supervised exercise program.
HealthDay News -- A supervised home-based exercise program started early in pregnancy does not reduce the recurrence of gestational diabetes, according to a study published in the October issue of Obstetrics & Gynecology.
Kym J. Guelfi, PhD, from the University of Western Australia in Perth, and colleagues conducted a randomized controlled trial involving women with a history of gestational diabetes. At 13 ± 1 weeks of gestation, participants were randomly assigned to an exercise intervention (14-week supervised home-based stationary cycling program; 85 women) or to a control group (standard care; 87 women). Three of the women miscarried before outcome measures were assessed.
The researchers found that between the groups there was a similar gestational diabetes recurrence rate (40% for controls; 40.5% for exercise; P=.95). The exercise program did not affect the severity of gestational diabetes at diagnosis, with similar glucose and insulin responses to the oral glucose tolerance test (P>.05). The exercise program improved maternal fitness (P<.01), and there was a reduction in psychological distress (P=.02). There were no between-group differences noted in the obstetric and neonatal outcomes (P>.05).
"Supervised home-based exercise started at 14 weeks of gestation did not prevent the recurrence of gestational diabetes; however, it was associated with important benefits for maternal fitness and psychological well-being," the researchers wrote.
Reference