July 05, 2016
Diabetes Patients May Benefit From Mindful Self-Compassion Program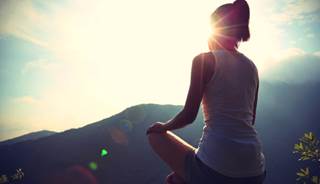 The program can reduce depression and diabetes-specific distress.
(HealthDay News) — A mindful self-compassion program can reduce depression, diabetes-specific distress, and glycated hemoglobin (HbA1c) levels in patients with diabetes, according to a study published in Diabetes Care.
Anna M. Friis, from the University of Auckland in New Zealand, and colleagues conducted a randomized controlled trial to examine the effects of self-compassion training on mood and metabolic outcomes in patients with diabetes.
Patients with type 1 and type 2 diabetes were randomly assigned to a standardized 8-week mindful self-compassion program (32 patients) or a wait-list control condition (31 patients). Measures of self-compassion, depressive symptoms, diabetes-specific distress, and HbA1c were assessed preintervention, postintervention, and at 3-month follow-up.
The researchers found that mindful self-compassion training increased self-compassion and produced statistically and clinically significant reductions in depression and diabetes distress; these reductions were maintained at 3-month follow-up. Between baseline and follow-up, mindfulness self-compassion participants averaged a clinically and statistically meaningful decrease in HbA1c of greater than 10 mmol/mol. No changes were observed for the wait-list control group.
"This initial report suggests that learning to be kinder to oneself (rather than being harshly self-critical) may have both emotional and metabolic benefits among patients with diabetes," the researchers wrote.
Reference