October 29, 2014
Hypoglycemia Predictors in the ORIGIN Trial
the Endocrinology Advisor take:
The predictors for non-severe vs. severe hypoglycemia differ during glucose-lowering treatment, according to a study published in Diabetes Care.
Lead researcher Matthew C. Riddle, MD, of the University Diabetes Group, and colleagues of the Outcome Reduction with an Initial Glargine Intervention (ORIGIN) trial found that hypoglycemia occurred more often in patients who were using sulfonylureas at baseline and were allocated to insulin glargine.
The study included 12,537 people with high cardiovascular (CV) risk and dysglycemia treated with one or fewer oral glucose-lowering agents. Participants were randomly assigned to add insulin glargine titrated to a fasting glucose level of ≤5.3 mmol/L or to use standard therapies.
During a median follow-up period of 6.2 years, 28% of participants experienced non-severe hypoglycemia, and 3.8% reported severe hypoglycemia. Patients with prior use of sulfonylurea and allocation to glargine had independent associations with higher risk in both categories of participants.
Younger age, lower BMI, the presence of diabetes and higher baseline HbA1c levels were independently associated with non-severe hypoglycemia. Severe hypoglycemia was associated with older age, hypertension, higher serum creatinine level and lower cognitive function, but not baseline glycemic status.
Progressively higher on-treatment HbA1c level was associated with a lower risk for non-severe events in both treatment groups; a lower risk for severe events in the glargine group; and a higher risk for severe events with standard care.
These results indicate that hypoglycemia is more frequent with sulfonylurea use at baseline and allocation to insulin glargine, though the researchers note that hypoglycemia was relatively uncommon in the ORIGIN trial.
Since non-severe and severe hypoglycemia were associated with different clinical characteristics, these traits can be used to inform individual therapy.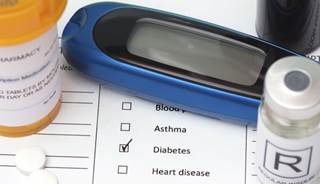 Hypoglycemia Predictors in the ORIGIN Trial
OBJECTIVE: Hypoglycemia is a leading risk of glucose-lowering therapy. Treatment with insulin glargine compared with standard care early in the course of dysglycemia in the Outcome Reduction with an Initial Glargine Intervention (ORIGIN) trial provides information on the frequency and predictors of hypoglycemia in this setting.
Sign Up for Free e-Newsletters
Check out what's trending
CME Focus