April 22, 2015
Both Calorie Restriction, Exercise Beneficial for Glucoregulation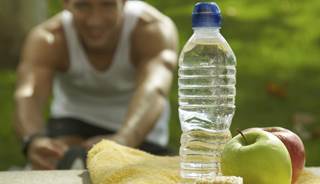 Both Calorie Restriction, Exercise Beneficial for Glucoregulation
(HealthDay News) — Calorie restriction and exercise-induced weight loss have additive benefits on glucoregulation, according to a study published in Diabetes Care.
Edward P. Weiss, PhD, from Saint Louis University, and colleagues examined whether calorie restriction has additive benefits to those from exercise-induced weight loss. Fifty-two sedentary overweight men and women, aged 45 to 65 years, were randomly assigned to undergo 6% to 8% weight loss by calorie restriction, exercise or calorie restriction and exercise.
During frequently sampled oral glucose tolerance tests, the researchers measured glucose, insulin, C-peptide, insulin sensitivity and incretin hormones (glucagon-like peptide 1 [GLP-1] and glucose-dependent insulinotropic polypeptide [GIP]).
Weight losses were similar in all groups, according to the researchers, but insulin sensitivity index values increased two-fold more in the calorie restriction and exercise group vs. the calorie restriction alone and exercise alone groups.
In the calorie restriction group only, postprandial GLP-1 concentrations decreased (P=.04); in all groups, GIP concentrations decreased. There was no change in incretin effects on insulin secretion.
"These findings underscore the importance of promoting both [calorie restriction] and [exercise] for optimal health," the researchers wrote.
"However, because data from participants who withdrew from the study and from those who did not adhere to the intervention were excluded, the results may be limited to individuals who are capable of adhering to a healthy lifestyle intervention."
Reference