August 10, 2015
Exercise in Early Adolescence May Cut Diabetes Risk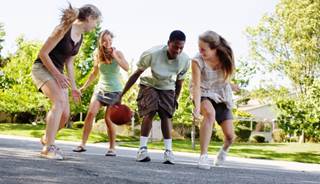 Exercise in Early Adolescence May Cut Diabetes Risk
(HealthDay News) — High levels of physical activity during the early teen years might reduce the risk for diabetes later in life, according to a new study published in Diabetologia.
The researchers included 300 children who were checked for insulin resistance every year from ages 9 to 16.
At age 13, insulin resistance was 17% lower among those who were more physically active compared with those who were less active, study results revealed. However, this difference decreased over the next 3 years and was gone by age 16.
"Insulin resistance rises dramatically from age 9 to 13 years, then falls to the same extent until age 16. Our study found that physical activity reduced this early-teenage peak in insulin resistance but had no impact at age 16," study author Brad Metcalf, PhD, a senior lecturer in physical activity and health at the University of Exeter in the United Kingdom, said in a university news release.
"A reduction in this peak could lessen the demand on the cells that produce insulin during this critical period, which may preserve them for longer in later life," Metcalf added. "We are not saying that 16-year-olds don't need to be physically active, there are other health benefits to be gained from being active at all ages."
Reference