July 30, 2014
Diabetes May Raise Head and Neck Cancer Risk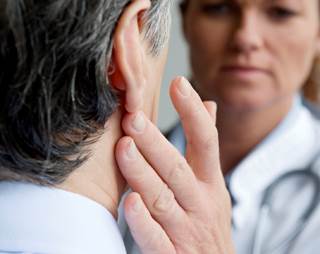 Diabetes May Raise Head and Neck Cancer Risk
(HealthDay News) — Patients newly diagnosed with diabetes have an increased risk of developing head and neck cancer, according to a study published online in JAMA Otolaryngology-Head & Neck Surgery.
Kuo-Shu Tseng, PhD, from the Tainan University of Technology in Taiwan, and colleagues used data from Taiwan's Longitudinal Health Insurance Research Database to examine the risk of head and neck cancer among patients with diabetes.
A total of 89,089 patients newly diagnosed with diabetes and controls without diabetes and matched for comorbidities, sex and age were included in the analyses.
The researchers found that compared with the risk for a first malignant tumor in the control group, the incidence of head and neck cancer was found to be higher in patients newly diagnosed as having diabetes (adjusted HR=1.48).
In patients with diabetes vs. controls, the risks for oral cancer, oropharyngeal cancer and nasopharyngeal carcinoma were significantly increased (adjusted HRs=1.74, 1.53 and 1.40, respectively).
"Diabetes is associated with an increased risk of developing head and neck cancer," the researchers wrote.
Reference