June 30, 2016
Closing the Gap: Can Our Toughest Patients Be Our Greatest Teachers?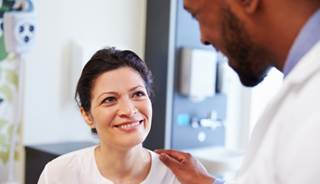 Taking the time to listen to and understand our patients' problems can help clinicians improve care.
The "non-adherent" or "non-compliant" patient. We all know that one. Someone who sits in your clinic with seemingly the same uncontrolled self-monitored blood glucoses (SMBGs), but doesn't seem to be interested in his or her diabetes, and least of all, in your earnest recommendations about taking medications regularly, exercising or — gasp! — actually bringing in their log book or meter! Even implementing one change for the better would be great! Yet, it seems like that individual is not there yet.
We all have a gap between where we are and where we could be. Patients with diabetes are no exception — some just have wider or more numerous gaps than others. I recently discussed the gaps between research discoveries and applying them to clinical practice. What about the discordance between our tools — a patient who has the best of intentions and the sometimes disappointing reality in the form of that stubbornly elevated HbA1c or the ever-elusive log book? How does a patient with diabetes turn it around? We know that the patient has to be on board and that our best efforts can only go so far. Can we do anything to help facilitate this process? Most of all, can we learn from these patients? I believe we can, and here are just 3 of many ways.
They invite us to dig deeper.

One of my mentors, Steve Edelman, MD, said, "Doctors are wrong when they label a patient living with diabetes as 'non-compliant.' There's no one who doesn't want to have a long and healthy life. But many patients with diabetes still need to realize they're managing their diabetes for themselves, not their doctor."1 He, in fact, implored us to avoid the term "non-compliant" because its negative connotation seems to blame the patient. I view his comment as an invitation to seek out the story behind someone not adhering to recommendations. Could the patient be in denial? Is it a knowledge deficit? Does the patient lack access to fresh vegetables and healthier food options? Is the patient under severe financial pressure?

One of my patients recently opened up for the first time about how he viewed his diabetes. "I hear what you're saying, but I just don't have the time. I might lose my house; I've got family who are very sick." I remind my trainees (and myself!) that we need to dig deeper, go beyond any assumptions or past behavior, and really listen to the person sitting in front of us, so we can begin to understand how we can best help the patient.


Challenging patients can help us continually improve and grow.

Herein lies the art of medicine — tailoring recommendations and treatment plans for each patients is an integral part of what we do. What works for one patient may not for another. Motivational interviewing is a way to help patients summon the fire from within to make changes. I consistently encourage my patients to think of one thing — not five simultaneously, but just one — to change, and a reason that is compelling enough to light that fire. One of my patients had been smoking for years, and he wanted to quit but never seemed to get there. Sure, he'd quit intermittently — 3 months here, 1 year there. But nothing took. One day, he shared great news with me: he'd had an "a-ha" or "eureka" moment. "I found a strong enough reason," he shared. "I want to be around so when my youngest daughter gets married, I can dance at her wedding."


They remind us why we do what we do!

I recently saw a patient, a 60-year-old gentleman beset by chronic pain, depression, and uncontrolled type 2 diabetes. Though he freely admits to struggling at times with all three, he has doggedly pressed on, working with everyone from his psychiatrist to his diabetes team pharmacist who checks in with him each month to me, his endocrinologist, and he has improved. I was excited about sharing with him the great news of his HbA1c reaching 7.0%, but before I could, he noted, "I saw on my [Web-based portal where patients can view their lab results] that my HbA1c went down to 7.0%!" He had come a long way from 10.7% just this past August. He observed, "I was in denial for a long time. But you all were there, not pushing me or preaching to me, but encouraging me, and when I was ready, you all showed me that I could do it." I am humbled and grateful to have the opportunity to able to celebrate and recognize these victories and successes with my patients, remembering that this is truly is a team effort.


I know that patients who are not there yet can be frustrating to work with, but they often provide us with invaluable insights that help us along our path of continually improving as physicians. What lessons have you collected along the way from your patients? I'd love to hear your stories about some of your patients, and what they shared that not only helped them, but you as well.
Edward C. Chao, DO, practices at the VA San Diego Healthcare System and is associate clinical professor of medicine at the University of California, San Diego.
References
Greenberg R. The Blog. Diabetes Dynamo: Dr. Steven Edelman Makes a Personal Quest America's Health Intervention. HuffPost Healthy Living, August 25, 2010. http://www.huffingtonpost.com/riva-greenberg/diabetes-dynamo-dr-steven_b_692825.html. Accessed April 8, 2016.