September 26, 2014
Hospitalized Patients Benefit From Diabetes Self-Management Education
the Endocrinology Advisor take:
Providing diabetes self-management education (DSME) to inpatients with diabetes has the potential to both improve treatment satisfaction and reduce capillary blood glucose (CBG), according to trial results published inPrimary Care Diabetes.
It is currently estimated that less than 50% of diabetes patients receive DSME, increasing the already heightened risk for hospitalization among those with diabetes.
Hospitalization provides an opportunity to provide diabetes patients with DSME and thus potentially decrease readmissions.
In this study, researchers investigated whether DSME had any positive effects on inpatients with diabetes.
Researchers randomly assigned patients who were hospitalized in four medicine units to receive DSME or usual care. Twelve patients received usual care, and another nine patients were prescribed DSME by a certified diabetes educator (CDE), which was delivered by a registered nurse.Researchers compared bedside CBG taken on the day of admission, randomization and at discharge. All participants completed Diabetes Knowledge Tests (DKT), Medical Outcomes Short Form (SF-36), Diabetes Treatment Satisfaction Questionnaire (DTSQ) and the DTSQ-inpatient (DTSQ-IP).
Results showed no differences in the DKT, SF-36 and DTSQ scores of between the two groups, but the patients who received DSME reported higher satisfaction with inpatient treatment. They also experienced less hyperglycemia before and during hospitalization.
The two groups showed no difference in their admission CBG; however, the patients who received DSME had lower mean discharge CBG.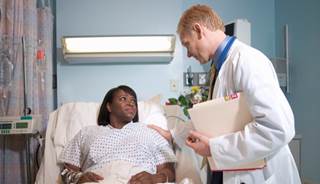 Hospitalized Patients Benefit From Diabetes Self-Management Education
Delivering diabetes self-management education in the hospital setting appears to be feasible in the inpatient setting and improves both patient satisfaction and other outcomes in patients with diabetes. This study, published in Diabetes Care, elaborates more on the study.
Sign Up for Free e-Newsletters
Check out what's trending
CME Focus