May 06, 2015
Psoriasis Risk No Lower With Statins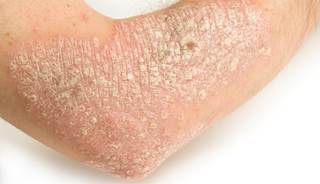 Psoriasis Risk No Lower With Statins
(HealthDay News) — Statin use does not lower the risk of psoriasis, according to a study published in the British Journal of Dermatology.
"Statins were shown to down-regulate immune mechanisms activated in psoriasis. However, previous studies on their potential role in preventing psoriasis yielded conflicting results," the researchers wrote.
Gabriel Chodick, PhD, from Tel Aviv University in Israel, and colleagues analyzed data from 205,820 health plan enrollees (mean age 55 years; 54.1% female) who initiated statin treatment from January 1998 through September 2009.
During a mean follow-up of 6.2 years, adherence with statins, measured by proportion of days covered (PDC) and diagnosis codes of psoriasis, were assessed.
The researchers found that a total of 5,615 psoriasis cases (incidence density, 4.4 per 1,000 person-years) were identified.
Patients covered with statins for 40% to 59% of the time had a significantly (P<.05) lower risk for psoriasis, with hazard ratios (HRs) of 0.84 and 0.74 among men and women, respectively, compared with nonadherent patients (proportion of days covered, <20%).
For patients with proportion of days covered of ≥80% (more adherent), HRs were 0.88 (95% CI, 0.79-0.98) and 1.00 (95% CI, 0.90-1.11), respectively.
"The results of the current study suggest that high and long-term adherence with statins is not associated with a meaningful reduction in the risk of psoriasis," the researchers wrote.
Reference