October 13, 2015
Moderate Red Wine Intake May Decrease Cardiometabolic Risk in Type 2 Diabetes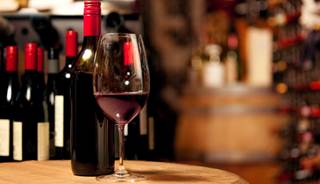 Moderate consumption of red wine appeared to decrease cardiometabolic risks in diabetes.
(HealthDay News) — Moderate red wine intake is safe and modestly decreases cardiometabolic risk among patients with well-controlled diabetes following the Mediterranean diet, according to a study published in the Annals of Internal Medicine.
Yftach Gepner, MPH, from Ben-Gurion University in Israel, and colleagues randomly assigned patients 150 mL of mineral water, white wine, or red wine with dinner for 2 years. All patients followed a Mediterranean diet without caloric restriction, and of the 224 who initially participated, 94% had 1-year follow-up data and 87% had 2-year follow-up data.
The researchers found that red wine significantly increased the HDL cholesterol level by 0.05 mmol/L (P<.001) and apolipoprotein(a)1 level by 0.03 g/L (P=.05) and decreased the total cholesterol/HDL cholesterol ratio by 0.27 (P=.039).
A significant benefit from both wines on glycemic control (fasting plasma glucose, homeostatic model assessment of insulin resistance, and HbA1c), was seen only in slow ethanol metabolizers (alcohol dehydrogenase alleles [ADH1B*1] carriers) compared with fast ethanol metabolizers (persons homozygous for ADH1B*2).
Compared with water, red wine further significantly reduced the number of components of metabolic syndrome (P=.049).
"The genetic interactions suggest that ethanol plays an important role in glucose metabolism, and red wine's effects also involve nonalcoholic constituents," the researchers wrote.
Reference