October 08, 2015
Short Bouts of High-Intensity Exercise Improved Endothelial Function in Teens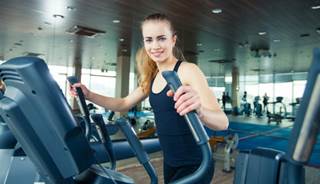 Short Bouts of High-Intensity Exercise Improved Endothelial Function in Teens
(HealthDay News) — Health benefits for teens are achievable with just 8 to 10 minutes of high-intensity exercise, according to a study published in the American Journal of Physiology: Heart and Circulatory Physiology.
Alan Barker, PhD, from the University of Exeter in the United Kingdom, and colleagues had seven boys and six girls, ages 13 and 14, do six high-intensity workouts over 2 weeks. The teens did this by cycling at high speed for 1 minute followed by a 75-second break. They started by repeating this pattern eight times during each exercise session. By the end of the second week, the teens had worked up to 10 1-minute bursts of activity a session.
Results showed that the training program improved the teens' endothelial function and heart rate variability, without improvements in traditional cardiovascular disease risk factors.
"We may have more success in encouraging teenagers to dedicate a shorter time to improving their health by performing high-intensity exercise. This is an important finding, but more work is needed to inform existing physical activity guidelines for health," lead author Bert Bond, PhD, from the University of Exeter, said in a university news release.
"The next step is to confirm these results on more participants, especially groups who are at greater risk of future cardiovascular disease, and to address the impact of longer high-intensity interventions."
Reference