September 15, 2015
Application for New Dosing Option for Repatha Submitted to FDA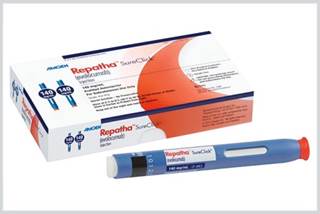 Amgen has submitted an application to the FDA for monthly administration of Repatha.
Amgen announced the submission of an application to the Food and Drug Administration (FDA) seeking approval of a single-injection option for the monthly administration of the 420-mg dose of Repatha (evolocumab) Injection, according to a press release.
Repatha, a human monoclonal antibody that inhibits proprotein convertase subtilisin/kexin type 9 (PCSK9), is available as a single-use 140-mg/mL prefilled SureClick autoinjector or prefilled syringe that patients can self-administer at the recommended dose of 140-mg every 2 weeks or 420-mg once a month.
Currently, multiple injections are required to achieve the 420-mg dose.
FDA approved RepathaThe on Aug. 27, 2015, as an adjunct to diet and maximally tolerated statins in patients with heterozygous familial hypercholesterolemia (HeFH) or clinical atherosclerotic cardiovascular disease (ASCVD), who require additional lowering of LDL cholesterol, and as an adjunct to diet and other LDL-lowering therapies for the treatment of patients with homozygous familial hypercholesterolemia (HoFH) who require additional lowering of LDL cholesterol.
For more information call (800) 772–6436 or visit Amgen.com.