October 24, 2015
EHR Use Improved Some Outcomes After Myocardial Infarction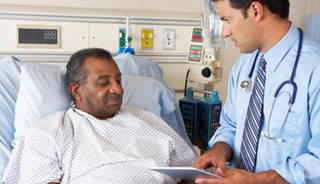 EHR Use Improved Some Outcomes After Myocardial Infarction
(HealthDay News) — For patients with acute myocardial infarction, electronic health record implementation is associated with some improvement in outcomes, according to a study published in Circulation: Cardiovascular Quality and Outcomes.
Jonathan R. Enriquez, MD, from the University of Missouri in Kansas City, and colleagues examined the correlation of electronic health record (EHR) use with quality of care and outcomes after myocardial infarction (MI). They compared outcomes for patients treated at hospitals with a fully-implemented EHR (43 527 patients), partially-implemented EHR (72 029 patients), and no EHR (9270 patients).
From 2007 to 2010, there was an increase in overall EHR use from 82.1% to 99.3%, the researchers found.
Compared with patients treated at hospitals with no EHR, those treated at hospitals with a fully-implemented EHR had fewer heparin overdosing errors (45.7% vs 72.8%; P<.01) and a higher likelihood of guideline-recommended care (adjusted OR=1.40; 95% CI, 1.07-1.84).
Compared with no EHR, fully-implemented EHR use correlated with reduced risk for major bleeding and mortality (adjusted OR=0.78; 95% CI, 0.67-0.91; and adjusted OR=0.82; 95% CI, 0.69-0.97, respectively) in non-ST-segment-elevation MI.
Outcomes did not differ significantly by EHR status in ST-segment-elevation MI.
"EHR use was associated with some markers of patient safety, such as less frequent heparin overdosing, and slightly greater use of evidence-based therapies; however, associations with adverse outcomes after MI were mixed," the researchers wrote.
Two authors disclosed financial ties to the pharmaceutical industry.
Reference