August 31, 2016
CPAP Use May Not Lower Long-Term Risk for Cardiovascular Events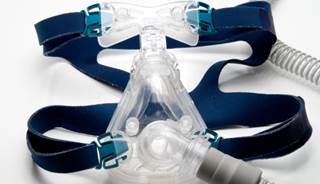 CPAP does not lower the long-term odds for cardiovascular events.
(HealthDay News) — While treatment with continuous positive airway pressure (CPAP) reduces sleep apnea symptoms, it does not lower users' long-term odds for cardiovascular (CV) events, according to a study published online in the New England Journal of Medicine. The research was published to coincide with the annual European Society of Cardiology Congress.
Doug McEvoy, MD, a clinician at the Adelaide Institute for Sleep Health at Flinders University in Australia, and colleagues selected 2717 patients with moderate-to-severe sleep apnea from 89 clinical centers across 7 countries. Most were older males (average age, 61), and were overweight, habitual snorers. All had been diagnosed with some form of cardiovascular disease (CVD). About half the participants were randomly chosen to receive CPAP, while the others received standard CVD care plus advice on trying to maintain healthy sleep without CPAP.
The team found no differences between CPAP users and non-users in rates for heart-related death, myocardial infarction or stroke or transient ischemic attack, or hospitalization for heart failure. For example, 17.0% of patients in the CPAP group had a serious CV event, compared to 15.4% of non-users (hazard ratio with CPAP, 1.10; 95% CI, 0.91-1.32; P=.34). CPAP users reported reductions in daytime sleepiness, a boost in health-related quality of life, fewer work days lost, and better mood, with less risk of depression.
Dr McEvoy believes that prior observational studies may have "overestimated" the link between sleep apnea and CV outcomes. Another factor might be that many participants could only use CPAP about 3 hours a night. McEvoy pointed out that the study participants who were able to use the treatment even a bit longer — 4 or more hours — did show "a trend toward a reduction in stroke." All of this suggests that "better-tolerated obstructive sleep apnea therapies, or new ways of making CPAP more tolerable, may be needed before a benefit of [the] treatment on cardiovascular outcomes can be shown," he told HealthDay.
Disclosures: The study was funded in part by Philips Respironics; several authors disclosed financial ties to the pharmaceutical and medical device industries.
Reference