July 05, 2016
How Unhealthy Is Butter?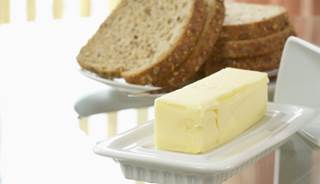 Health risks associated with butter consumption are less than previously thought.
(HealthDay News) — Butter may not be the unhealthy food many Americans believe it to be; however, that does not mean that butter provides any real health benefit, according to research published in PLOS ONE.
A research team reviewed data from 9 studies that included 636,151 people living in 15 countries. Average butter consumption for individuals in the study ranged from about one-third of a serving to just over 3 servings per day. One serving equals about 1 tablespoon of butter, the team said.
The researchers found that eating butter was only weakly associated with increased risk in all-cause mortality (relative risk [RR], 1.01; 95% CI, 1.00-1.03; P=.045) and not associated at all with cardiovascular disease (RR, 1.00; 95% CI, 0.98-1.02; P=.704). There was a slight association with protection against diabetes (RR, 0.96; 95% CI, 0.93-0.99; P=.021).
"Overall, our results suggest that butter should neither be demonized nor considered 'back' as a route to good health," senior author Dariush Mozaffarian, MD, dean of the Tufts University School of Nutrition Science and Policy in Boston, said in a university news release.
Reference