August 09, 2016
Soy Isoflavone May Improve Bone Health After Menopause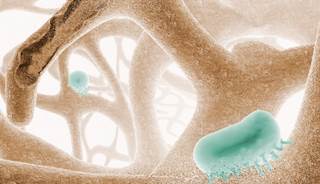 After menopause, soy isoflavones may reduce bone turnover markers in women.
(HealthDay News) -- For postmenopausal women, soy isoflavone supplementation is associated with improvement in bone health, according to a study published in the Journal of Bone and Mineral Research.
Thozhukat Sathyapalan, MBBS, MD, from Hull York Medical School in the United Kingdom, and colleagues performed a double-blind study involving 200 women within 2 years after menopause onset. Participants were randomly assigned to 6 months of 15 g soy protein with 66 mg isoflavone (SPI) or 15 g soy protein alone (SP) daily.
The researchers found that, compared with SP supplementation, SPI correlated with a significant reduction in type I collagen crosslinked beta C-telopeptide. With SPI supplementation there was also a significant reduction in type I procollagen-N-propeptide, which was more marked between 3 and 6 months. Significant reductions were seen in fasting glucose, fasting insulin, insulin resistance, and systolic blood pressure following SPI, whereas there were no significant changes in these parameters with SP. Neither preparation correlated with significant changes in fasting lipid profile and diastolic blood pressure.
With SPI supplementation there was a significant increase in thyroid-stimulating hormone and reduction in free thyroxine (P < 0.01); there was no change in free triiodothyronine.
"Soy protein with isoflavones may confer a beneficial effect on bone health, analogous to the mode of action of anti-resorptive agents albeit to a less magnitude," the researchers wrote.
Reference