September 02, 2014
Dementia Linked to Parathyroid Hormone
the Endocrinology Advisor take:
Parathyroid hormone may affect the development of vascular dementia, according to data published in the Journal of Clinical Endocrinology & Metabolism.
Dementia is common among patients with diseases with increased parathyroid hormone levels, such as primary hyperparathyroidism, researchers wrote, but little is known about the potential association between parathyroid hormone (PTH) and dementia development.
The researchers evaluated patients from two community-based cohorts: the Uppsala Longitudinal Study of Adult Men (ULSAM) and the Prospective Investigation Of The Vasculature In Uppsala Seniors (PIVUS). A total of 998 men (age 71 years) were included from the former and 406 men and women (age 70 years) from the latter.
After follow-up, 56 patients developed vascular dementia, 91 developed Alzheimer's disease and 59 developed other dementias. Results revealed an association between higher PTH levels and vascular dementia (HR per one standard deviation increase of PTH=1.41; P<.01). However, they did not observe a link between higher PTH levels and any other kind of dementias.
About 18.5% of the population-attributable risk for vascular dementia was accounted for by the top tertile of PTH and exceeded all other risk factors.
In the PIVUS cohort, data associated PTH with increasing white matter hyperintensities, which was indicative of the increasing burden of cerebral small vessel disease. Adjustment for vascular risk factors and mineral metabolism were made in all models.
In these two cohorts, PTH predicted clinically diagnosed and neuroimaging indices of vascular dementia and cerebral small vessel disease, suggesting that PTH may affect vascular dementia development, the researchers concluded.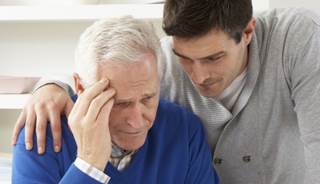 Dementia Linked to Parathyroid Hormone
In diseases with increased parathyroid hormone such as hyperparathyroidism and chronic renal failure, dementia is common. Little is known of PTH and dementia in the community.
Sign Up for Free e-Newsletters
Check out what's trending
CME Focus