September 17, 2016
Resistance Band Training Benefited Bone Development in Adolescent Girls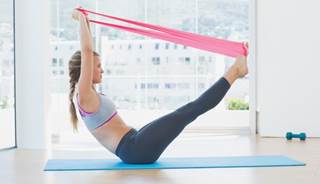 Resistance band training was beneficial for adolescent girls.
A regimen of resistance band training — 8 to 12 minutes, 2 to 3 times per week for 2 school years — resulted in improvements to regional and whole body bone development in adolescent girls.
Deena Weiss, MD/MPH candidate at the University of Wisconsin School of Medicine and Public Health, Madison, Wisconsin, and fellow researchers presented the findings at the American Society for Bone and Mineral Research (ASBMR) 2016 Annual Meeting.
In an interview with Endocrinology Advisor, Weiss explained that the study began as the result of work done by her mentor and fellow study investigator, Tamara A. Scerpella, MD, of the University of Wisconsin, who has previously assessed bone development in adolescent girls, evaluating gymnastics as a model of impact loading.
"Although it is associated with improved bone acquisition, gymnastics is not a broadly generalizable exercise," Weiss said. "There is some evidence that resistance training may offer a bone-building alternative; it can be easily and broadly implemented."
Weiss and colleagues enrolled girls entering the sixth grade; they were block-randomized by school site: site 1 had standard gym classes, 2 to 3 days per week for 45 minutes per session (control group); whereas site 2 featured gym classes that included 8 to 12 minutes of resistance band training per session (intervention group).
Researchers determined height, weight, and non-dominant grip strength at 3 time points: baseline, end of first school year, and end of second school year. At the same time points, regional and whole body bone parameters and body composition were assessed using dual-energy X-ray absorptiometry (DXA); diet and non-intervention organized activity were recorded. Intervention effort was assessed by daily observation of classes and categorized by effort-minutes as low or high.
Data at the end of second year follow-up was available for 62 of 68 participants.
No significant differences were reported between intervention and control groups in age, height, weight, BMI, percent body fat, interscan organized activity, calcium, or vitamin D at the end of the second school year.
Results indicated that regardless of effort, the intervention group demonstrated improvements in femoral neck and lumbar spine bone mineral densities, and bone mineral content of the sub-head, lumbar spine, and legs (P<.05), with the intervention explaining up to 1% of the variance; for outcomes of the femoral neck and lumbar spine, this effect was comparable to variance explained by height change (1-3%).
In addition, when the high-effort group was compared with a combined low-effort/control group, the intervention effect was even greater at all sites, explaining 1.5% to 3.0% of variance for femoral neck and lumbar spine outcomes. Improvements were greater for all outcomes (P<.001 to P<.05).
"Consistent with our expectations, we found that participation in this [resistance-training] program for 2 consecutive school years produced increased regional and whole body bone acquisition in adolescent girls," Weiss concluded, adding that the program was easy to implement. "Further study is necessary to evaluate retention of benefits to adulthood. If bone benefits are retained, this program may have significant public health implications."
Disclosures: Weiss reports no relevant financial disclosures.
For more coverage of ASBMR 2016, click here.
Reference
Weiss D, Dowthwaite J, Thein-Nissenbaum J, Scerpella T. Abstract LB-SA0381. Two-year, school-based resistance band exercise increases bone acquisition in adolescent girls. Presented at: ASBMR 2016 Annual Meeting; September 16-19, 2016; Atlanta, Georgia.