September 18, 2016
Trend of Decreasing Hip Fracture Rates in United States May Be Over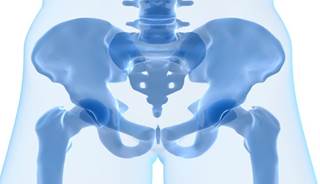 Hip fracture rates are no longer declining.
In the United States, the decline in hip fracture rates from previous years has halted, according to new research, with higher-than-expected rates reported during the past 3 years.
"This is consistent with our expectation of rising fracture rates," E. Michael Lewiecki, MD, study investigator with the New Mexico Clinical Research & Osteoporosis Center in Albuquerque, told Endocrinology Advisor. "Causality cannot be established from this observational study, and certainly other factors are playing a role in contributing to lower treatment rates and higher-than-expected rates of fracture."
Dr Lewiecki and colleagues presented their findings at the American Society for Bone and Mineral Research (ASBMR) 2016 Annual Meeting.
"Due to declines in Medicare reimbursement for [dual-energy X-ray absorptiometry (DXA)], which are now far below the cost of providing the procedure, we anticipated that office-based DXA facilities would close, fewer DXAs would be done, fewer patients would be diagnosed and treated, and ultimately fracture rates would rise," he said.
This led Dr Lewiecki and colleagues to cull health care claims and enrollment data from the 2002 to 2014 5% sample of Medicare fee-for-service beneficiaries to determine individuals with at least 1 Medicare-paid DXA scan in each year.
From 2002 to 2012, age-adjusted hip fracture rates declined steadily; however, in 2013 and 2014, these rates were higher than predicted trends.
Furthermore, in 2009, 2 years after Medicare reduced office-based DXA reimbursement to levels below the cost of providing the service, rates began falling for both DXA testing (2009, 13.2% vs 2014, 11.3%) and diagnosis of osteoporosis (2009, 17.9% vs 2014, 14.8%).
"When reimbursement rates for any service are below the cost of providing the service, then fewer physicians will be providing the service," Dr Lewiecki said. "This is what we have observed with bone density testing by DXA. The situation is not likely to improve until reimbursement for DXA is at least at a level that covers the costs. It is likely that legislation will be required to make this happen, as supported by many organizations, most of them represented by the National Bone Health Alliance and the International Society for Clinical Densitometry."
Dr Lewiecki recommended that concerned readers tell their legislators to co-sponsor and support H.R. 2461, the Increasing Access to Osteoporosis Testing for Medicare Beneficiaries Act of 2015.
Disclosures: Dr Lewiecki reports financial disclosures with Amgen, Eli Lilly, Merck, Radius Health, and Shire.
For more coverage of ASBMR 2016, click here.
Reference
Lewiecki EM, Adler R, Curtis J, et al. Abstract 1077. Hip fractures and declining DXA testing: At a breaking point? Presented at: ASBMR 2016 Annual Meeting; September 16-19, 2016; Atlanta, Georgia.