November 21, 2016
Bone Health Improved With Menopausal Hormone Therapy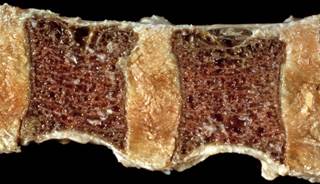 Menopausal hormone therapy improved bone health.
New data published in the Journal of Clinical Endocrinology & Metabolism have linked hormone therapy for menopausal symptoms to increased bone mass and improvements in bone structure.1
Although the Women's Health Initiative (WHI) confirmed that menopausal hormone therapy was effective in preventing postmenopausal osteoporosis, results also revealed an association between the treatment and increases in breast cancer, coronary heart disease, and strokes.2,3 However, these conclusions remain controversial, as data from subgroup analyses have demonstrated favorable long-term outcomes in certain age groups as well as with lower-dose estrogen.4
"When used in the right context, specifically in postmenopausal women younger than 60 years old for whom the benefits outweigh risks, menopausal hormonal therapy is effective for both the prevention and treatment of osteoporosis," the study's first author, Georgios Papadakis, MD, of the Lausanne University Hospital in Switzerland, said in a press release.5
In this cross-sectional study, Dr Papadakis and colleagues evaluated data from the OsteoLaus cohort, which included 1500 women aged 50 to 80 years living in Lausanne, Switzerland. After exclusion of women using bone-modulating treatments, 1279 were eligible for inclusion in the researchers' analysis. Of these women, 22% were undergoing menopausal hormone therapy during the study, 30% were deemed past users, and 48% had never used menopausal hormone therapy.1
Participants' bone mineral density (BMD) was assessed via dual X-ray absorptiometry (DXA) scans of the lumbar spine, femoral neck, and hip. Trabecular bone scores were assigned based on the results of the DXA scans and were used to assess the quality of their underlying bone structure. Age and body mass index (BMI) were major factors in the study, while other variables included history of fractures and the use of supplements such as current or past use of calcium and/or vitamin D. Serum vitamin D levels from 1204 of the 1279 participants were also factored into the study.
Results showed that trabecular bone scores were higher in current menopausal hormone therapy users vs past users or those who never used menopausal hormone therapy.1 According to age- and BMI-adjusted analysis, trabecular bone score values in current users vs past users or never users were 1.31 vs 1.29 and 1. 21, respectively (P <.001).1 Similarly, current users had higher BMD values than past users or never users.1
Past users also appeared to have better bone health than never users.1 Specifically, they had higher BMD values than never users at the lumbar spine (0.94 g/cm2 vs 0.91 g/cm2; P =.017) and total hip (0.86 g/cm2 vs 0.84 g/cm2; P =.026), as well as a trend toward higher trabecular bone score (P =.066).1
Additionally, the researchers found that current and past users of menopausal hormone therapy had lower 10-year loss of trabecular bone score and BMD at the lumbar spine and total hip, as compared with never users.1
The duration of hormone therapy did not affect bone parameters, the researchers reported, and among past users, the effect of treatment on trabecular bone score and BMD was more prominent in those who discontinued treatment before 2 years.1