August 05, 2016
Does Birth Control Boost Vitamin D Levels in Women?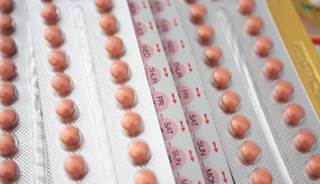 Birth control use was associated with an increase in vitamin D levels.
Women using estrogen-containing contraceptives, such as birth control pills, patches, or rings, may have significantly higher serum 25-hydroxyvitamin D (25[OH]D) levels, researchers reported in the Journal of Clinical Endocrinology & Metabolism.
Previous data have delineated a potential link between exogenous estrogen, in the form of contraceptives or hormone replacement therapy, and 25(OH)D in women, but these studies were limited by size and variation in control of confounders, according to the researchers.
"Examining the relationship between exogenous hormones and vitamin D levels is important for understanding normal metabolic pathways, making clinical decisions, and interpreting epidemiologic research on many outcomes associated with vitamin D," they wrote. "Changes in vitamin D resulting from either endogenous or exogenous hormones may have implications for timing of clinical tests for vitamin D deficiency, identification of vulnerable populations, and discovery of possible biologic pathways by which vitamin D might influence health outcomes."
To further assess the association between exogenous hormones and vitamin D levels in women, Quaker E. Harmon, MD, PhD, of the National Institutes of Health's (NIH's) National Institute of Environmental Health Sciences in Research, Triangle Park, North Carolina, and colleagues conducted a cross-sectional analysis of data from the Study of Environment, Lifestyle, and Fibroids (SELF). SELF included nearly 1700 African-American women aged 23 to 34 living in or around Detroit, Michigan. The researchers polled women about their use of contraception and supplements as well as dietary intake of vitamin D and how much time they spent outdoors.
Blood samples for analysis of 25(OH)D levels were available for 1662 women.
The majority of participants (70%) had low 25(OH)D levels, defined as lower than 20 ng/mL, according to the data. Results linked use of estrogen-containing contraceptives, including pills, patches, or rings, with 20% (95% CI, 14-27) higher levels, after adjustment for seasonal exposure to sunlight.
The researchers noted, however, that these data pertained only to current users of hormonal contraceptives, whereas past users only had average levels of 25(OH)D.
"Our study found that women who were using contraception containing estrogen tended to have higher vitamin D levels than other women," Dr Harmon said in a press release. "We could not find any behavioral differences such as increased time spent out doors to explain the increase. Our findings suggest that contraceptives containing estrogen tend to boost vitamin D levels, and those levels are likely to fall when women cease using contraception."
Clinically, these data are particularly relevant for reproductive-aged women who may discontinue hormonal contraceptives because they wish to become pregnant. During pregnancy, vitamin D levels are important for normal development of the fetal skeleton, and the decline in 25(OH)D after discontinuing contraceptives may lead to adverse outcomes, the researchers explained.
"Our findings indicate women may run the risk of developing vitamin D deficiency just when they want to become pregnant," Dr Harmon said. "For women who are planning to stop using birth control, it is worth taking steps to ensure that vitamin D levels are adequate while trying to conceive and during pregnancy."
Study limitations included a potential underestimation of vitamin D levels due to the assay used as well as the inability to precisely measure how much diet, supplement use, and genetics may have influenced these levels.
Disclosures: The authors report no conflicts of interest.
Reference