July 18, 2016
PMS, PMDD Tied to Increased Odds for Bulimia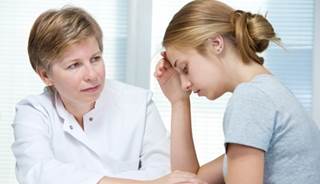 Premenstrual syndrome and premenstrual dysphoric disorder are associated with bulimia nervosa.
(HealthDay News) — Premenstrual syndrome (PMS) and premenstrual dysphoric disorder (PMDD) are associated with increased odds of bulimia nervosa, but not with binge-eating disorder, according to a study published in the International Journal of Eating Disorders.
Carrie J. Nobles, PhD, from Massachusetts General Hospital in Chelsea, and colleagues examined the correlation between lifetime PMS and PMDD and bulimia nervosa or binge-eating disorder. Data were included for 8694 female participants drawn from the Collaborative Psychiatric Epidemiological Surveys, conducted from 2001 to 2003.
Overall, 1.0% of participants had bulimia nervosa and 1.8% had binge-eating disorder; 4.2% had PMDD and 42.4% had PMS. The researchers found that among those with bulimia nervosa, the prevalence of PMDD and PMS were 17.4% and 55.4%, respectively, compared with 10.7% and 48.9%, respectively, among those with binge-eating disorder, and 3.4% and 59.1%, respectively, among those with subthreshold binge-eating disorder.
PMDD and PMS correlated with increased odds of bulimia nervosa (odds ratios, 7.2 and 2.5, respectively) after adjustment for age, race/ethnicity, income, education, BMI, age at menarche, birth control use, and comorbid mental health conditions. No significant correlations were seen for PMDD or PMS with binge-eating disorder.
"PMS and PMDD may be important comorbidities to bulimia nervosa to consider in clinical settings, and future research should investigate whether PMS and PMDD affect the onset and duration of bulimic symptoms as well as the potential for shared risk factors across disorders," the researchers wrote.
Reference