December 05, 2014
Higher Aldosterone Linked to Increased Parathyroid Hormone Levels
the Endocrinology Advisor take:
Both aldosterone and parathyroid hormone (PTH) play a role in the development of cardiovascular and skeletal disease, with research suggesting a relationship between the two.
These findings have raised questions about whether this relationship can be targeted as a "potential method to mitigate the clinical consequences associated with excess aldosterone and PTH," researchers wrote in the Journal of Clinical Endocrinology & Metabolism.
To learn more, the researchers conducted cross-sectional analyses of 5,668 participants in the Multi-Ethnic Study of Atherosclerosis (MESA) without primary hyperparathyroidism or chronic kidney disease (CKD).
The researchers also assessed associations of use of renin-angiotensin-aldosterone system (RAAS) inhibitors with PTH concentration in 1,888 participants being treated for hypertension. They also tested associations between serum aldosterone concentration and PTH concentration in 1,547 participants.
Data linked higher aldosterone with higher PTH (P<.0001) — a finding that was most pronounced in participants with primary hyperaldosteronism-like phenotype.
The researchers noted a stepwise increment in PTH when comparing untreated participants without hypertension; participants with hypertension using RAAS inhibitors; untreated participants with hypertension; and participants with hypertension using non-RAAS inhibitors.
They also found an independent association between RAAS inhibitor use and lower PTH (P=.006) vs. use of non-RAAS inhibitors.
Ultimately, the researchers concluded that their findings add to existing evidence indicating "a potentially important and modifiable relationship between RAAS and PTH in humans."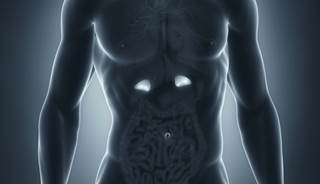 Higher Aldosterone Linked to Increased Parathyroid Hormone Levels
CONTEXT: An expanding body of evidence supports a bidirectional and positive physiologic relationship between aldosterone and PTH. Large population-based studies confirming this relationship and its potential as a treatment target are needed.
OBJECTIVE: We hypothesized that higher aldosterone levels would associate with higher PTH, and that the use of renin-angiotensin-aldosterone system (RAAS) inhibitors would predict lower PTH in a large, multi-ethnic, community-based cohort.
Sign Up for Free e-Newsletters
Check out what's trending
CME Focus