June 13, 2016
Better Diabetes Prevention, Management May Save Costs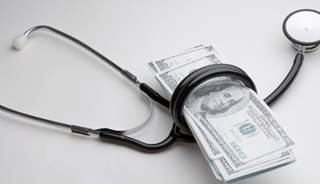 Medical expenditures were significantly higher for patients with diabetes.
NEW ORLEANS — A new study suggests that a significant amount of money could be saved if greater efforts were put in place to stave off the development of diabetes.
For the study, investigators at the Centers for Disease Control (CDC) in Atlanta, Georgia, compared the trajectory of medical expenditures among a diabetes cohort 9 years before and after diagnosis with a matched cohort without diabetes. The researchers found that the diabetes cohort had a 34% higher expenditure than the control cohort even 9 years before diagnosis.
The data were presented at the American Diabetes Association (ADA) 76th Scientific Sessions.
"Our study examined 2 questions: how much more people with diagnosed diabetes spend after diagnosis, compared to before their diagnosis, and how much people with diagnosed diabetes spend more on medical care during 9 years before and after diabetes diagnosis compared with those without diagnosed diabetes," said study investigator Sundar Shrestha, PhD, a health economist in the division fo diabetes translation at the CDC.
"Although previous studies examined those questions, our study is unique in that it encompasses a larger geographical area with longer follow-ups, uses the most recent data, and focuses on privately-insured adults aged 25 to 64 years."
Dr Shrestha noted that the overall medical costs after a diabetes diagnosis were also 2.3 times higher than they were prior to a diagnosis. The study suggested that the average medical costs among the diabetes cohort 9 years before and 9 years after a diabetes diagnosis were $51,000 higher than among the cohort without diabetes.
"We found that those who developed diabetes, on average, spent $3,489 more in the first year of a diagnosis compared to the year before their diagnosis and spent $6,424 more in medical costs compared to persons who did not develop diabetes," said Dr Shrestha.
There has been little investigation into the trajectory of health care costs that accrue in the United States as a person moves from nondiabetic to diabetic status. Dr Shrestha and colleagues mined the 2001-2013 MarketScan dataset and compared the trajectory of medical expenditures among a diabetes cohort 9 years before and after diagnosis with a matched cohort without diabetes. The total persons-years analyzed were 415,728 in this analysis.
The researchers defined diabetes incidence by at least 2 outpatient claims 30 days apart or at least 1 inpatient claim with diabetes codes during the case identification period that spanned up to 2 calendar years with at least 2 previous years without any claims for diabetes. They employed a 1-to-1 propensity score matching method to select a matched cohort and used 2-part models to predict the total annual medical expenditures for each cohort. The investigators controlled for age, sex, residence, and health plan type.
The researchers reported that per capita medical expenditures for the diabetes cohort increased annually by $382 but only by $177 in the matched control subjects. The study demonstrated that the excess expenditure increased with the time to development of diabetes and with the duration of diabetes. In this analysis, the largest difference was estimated at $6,424 occurring in the first year of diabetes diagnosis.
"Endocrinologists can play a substantial role in reducing the burden of health care costs by supporting timely diabetes detection and screening, encouraging lifestyle interventions among those at high risk for type 2 diabetes, and stressing the importance of patient compliance when managing diabetes," Dr Shrestha told Endocrinology Advisor.
Disclosures: Dr Shrestha reports no financial disclosures.
For more coverage of ADA 2016, click here.
Reference
Shrestha S, Zhang P, Hora IA, Gregg EW. Abstract 109-OR. Trajectory of Excess Medical Expenditures 9 Years Before and After the Onset of Diabetes among Adults, 2001-2013. Presented at: ADA 76th Scientific Sessions; June 10-14, 2016; New Orleans, LA.