June 11, 2016
Mixed Results Found for Use of Trained Dogs to Detect Hypoglycemia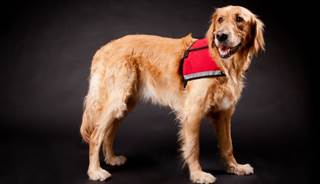 Dogs were trained to detect hypoglycemia.
NEW ORLEANS — New data demonstrate that trained dogs can alert human companions of otherwise unknown hypoglycemia, although there was a high rate of false positives.
"During hypoglycemia, dog alerts occurred at a 3.2 times higher rate than during euglycemia, suggesting dogs can successfully detect and alert to hypoglycemia; however, most alerts occurred when the patient did not actually have hypoglycemia," said study investigator Evan Los, MD, of the Oregon Health & Science University in Portland, Ore.
The controlled study, which was the first of its kind to evaluate this relationship, was presented at the American Diabetes Association (ADA) 76th Scientific Sessions.
During an interview with Endocrinology Advisor, Dr Los said that the exploratory study began as a result of patients asking about diabetes alert dogs.
"I didn't know anything about them [and] it turns out almost no one did, but patients were using them anyway," he said. "We designed the study to equip clinicians to be able to answer the question: 'What do you think about diabetes alert dogs?'"
The study included 8 patients (age range, 4 to 48 years) with type 1 diabetes. Researchers tested the reliability of trained service dogs in alerting their human companions to hypoglycemia using as comparators capillary blood glucose (CBG) and continuous glucose monitoring (CGM). Patients indicated their impressions of the reliability of their dogs and reasons for obtaining a diabetes alert dog.
A CBG and/or CGM of lower than 70 mg/dL indicated hypoglycemia.
Data demonstrated that dog users were very satisfied (8.9 out of 10 on Likert scale) and largely confident (7.9 out of 10) in their dog's capacity for detecting hypoglycemia, with hypoglycemia detection universally cited as the primary reason for having a trained dog.
Dr Los and colleagues observed that spontaneous dog alerts occurred 3.2 times more frequently during hypoglycemia than during euglycemia (70 mg/dL to 180 mg/dL). However, after incorporating inappropriate alerts, the positive predictive value of a dog alert for hypoglycemia was 12%.
According to data from event diaries and blinded CGM, trained dogs delivered a timely alert — within 10 minutes before to 30 minutes after onset of hypoglycemia — in 36% (sensitivity) of all hypoglycemia events (n=45).
Furthermore, CGM would have alerted before the dog in 73% of events when both the dog alerted and blinded CGM reached the hypoglycemia threshold (n=30; median, 22-minute difference).
"Patient-reported reliability painted a much more favorable assessment of the dog's abilities than we actually found in the study," Dr Los concluded. "This has the potential to lead to over-reliance on a poorly performing diagnostic tool that has significant financial cost and time investment."
Dr Los added, however, that this study does not represent the final word on whether trained dogs might be helpful for patients with diabetes. Additionally, "There may be other benefits not assessed by this study, such as having a positive partner in the daily management of a chronic disease," he said.
Disclosures: Dr Los reports no financial disclosures.
For more coverage of ADA 2016, click here.
Reference
Los EA, Guttmann-Bauman I, Ramsey K, Ahmann AJ. Abstract 76-OR. Treatment and Management of Complications — Can a Dog Really Smell Hypoglycemia? Presented at: ADA 76th Scientific Sessions; June 10-14, 2016; New Orleans, LA.