June 15, 2016
Automated Artificial Pancreas System May Benefit Hospitalized Type 2 Diabetes Patients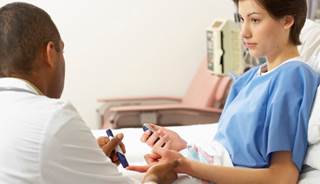 Hospitalized diabetes patients may benefit from an artificial pancreas system.
NEW ORLEANS — The use of use of an artificial pancreas (automated subcutaneous closed-loop insulin delivery system) to manage inpatient hyperglycemia in hospitalized patients with type 2 diabetes appears to be feasible, effective, and safe, according to a new study.
The results were presented at the American Diabetes Association (ADA) 76th Scientific Sessions.
"This is the first study to investigate the use of an automated artificial pancreas (closed-loop) system in people with type 2 diabetes who are hospitalized in the general wards," said lead study author Hood Thabit, MD, PhD, a diabetes specialist and research fellow at Addenbrookes Hospital and the University of Cambridge Metabolic Research Laboratories in the United Kingdom.
"We hypothesized that the artificial pancreas system will be superior to conventional insulin therapy in achieving better glucose safely, and although we were not surprised with the findings, it was gratifying to see that our results supported our hypothesis."
Dr Thabit and colleagues evaluated an automated fully closed-loop insulin delivery system without meal-bolusing in insulin-treated patients with type 2 diabetes in the general ward at their hospital.
In this randomized, controlled, parallel-design study, 40 adults with type 2 diabetes were randomly assigned to receive either closed loop-directed subcutaneous delivery of insulin lispro (n=20) or conventional subcutaneous insulin therapy (n=20) as per usual clinical guidelines for a maximum period of 72 hours.
In this study, patients were allowed to self-select hospital meals and were matched for age (68 vs 69 years), HbA1c (8.6 % vs 9.0 %), and BMI (34 vs 32).
The patients assigned to the closed-loop system had their usual insulin and sulfonylurea therapy withheld during the study period. The patients ranged in age from 42 to 87 and 30% were women.
The investigators conducted an intention-to-treat analysis and found that the proportion of time when sensor glucose was in target range (the primary end point) was significantly higher by 23% during closed-loop therapy.
"This study shows that an automated artificial pancreas system can achieve better glucose control safely compared to usual conventional methods of managing blood glucose. Because glucose monitoring and insulin delivery by our system is automated and autonomous, this can potentially reduce the workload burden," Dr Thabit told Endocrinology Advisor. "The clinical implications are that with better and safer automated glucose control, in-hospital morbidity, length of stay, and work hours committed to glucose control per se can potentially be improved and hence be cost-effective."
Dr Thabit said the time spent above target was significantly lower by 20% during the closed-loop period and there was a trend towards reduced mean sensor glucose by 21 mg/dL during those periods. The study also demonstrated that the time spent below target was low and comparable in both sessions.
Capillary glucose readings before meals and bedtime were overall lower during closed-loop, according to Dr Thabit; however, it was not statistically powered to show any significant differences.
During the overnight period, when patients in the hospital are generally at greatest risk for hypoglycemia, closed-loop was able to significantly reduce mean sensor glucose by 42 mg/dL while further reducing the burden of hypoglycemia compared with conventional insulin therapy.
"Currently, blood glucose control in hospital is suboptimally managed, and this is acknowledged by many clinicians and professional diabetes societies, such as the ADA. Some of the reasons include a fear of hypoglycemia among clinicians trying to achieve better or tighter glucose control with insulin therapy, especially in patients who are unwell in the hospital. Also, there is increasing burden of workload by health care professionals, which makes managing glucose control in hospital a challenge," said Dr Thabit.
He noted these study findings will need to be investigated in larger multicenter studies looking at these specific outcomes. His team is currently planning a follow-up trial, which will examine a diverse group of inpatients, including those on dialysis, enteral/parenteral feeding, and high-dose steroids.
Disclosure: Dr Thabit reports no financial disclosures.
For more coverage of ADA 2016, click here.
Reference
Thabit H. Abstract 84-OR. Automated Artificial Pancreas System in Type 2 Diabetes in the General Ward: A Randomised, Controlled, Parallel-Design Study. Presented at: ADA 76th Scientific Sessions; June 10-14, 2016; New Orleans, LA.