June 21, 2016
High Deductible Health Plan May Not Be Beneficial In High Morbidity Diabetes Patients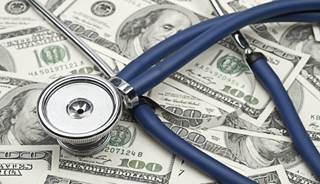 Further research is warranted to unravel the true benefits of HDHP membership among diabetes patients.
NEW ORLEANS – A high deductible health plan (HDHP) is popular in the United States but it may come with a high price tag among patients who have diabetes. Boston researchers reported at the American Diabetes Association's 76th Scientific Sessions that HDHP members with diabetes, especially high morbidity patients, experienced highly concerning delays in acute complication visits. In addition, the study suggests that there are significant increases in costs per complication in patients with diabetes who are HDHP members.
James Frank Wharam, MB, MPH, from Harvard Medical School, Boston, Massachusetts, and his colleagues assessed the financial impact of care models, co-payments, and complications among patients with diabetes. The researchers noted that HDHP prevalence is already 46% and according to the authors about to skyrocket. There is a growing concern about the potential detrimental effects on diabetes outcomes as more Americans choose a HDHP membership.
The Boston researchers studied a national sample of 12 084 HDHP members with diabetes. All the members were between 12 to 64 years of age and were enrolled for 1 year in a low deductible (≤$500) plan followed by 2 years in a HDHP (≥$1000) after an employer mandated switch. The team used 1:1 propensity score to match patients to contemporaneous controls whose employers offered only low deductible plans.
For this investigation, there were several outcomes that were analyzed. The researchers looked at time to first acute diabetes-related complication, such as cellulitis, urinary tract infection, angina or myocardial infarction, transient ischemic attack or stroke, and pneumonia. They also assessed the total costs of first complication episodes. Part of this investigation included a monthly time-to-event and interrupted time series analyses.
The researcher reported that HDHP members delayed their first acute complication visits during follow-up (hazard ratio [HR]: 0.948; P=.049). In addition, the cumulative mean costs per episode were pegged to be significant higher, totaling $12 935.40 higher than for controls after 2 years. The researchers were rather concerned by the findings because the trend was even more pronounced in the high morbidity patients. The study showed that 3640 high morbidity HDHP members delayed acute complication visits. This group also experienced a $19 605.20 absolute increase in cumulative costs per complication episode after 2 years.
The researchers looked at corresponding values among 4121 low income HDHP members and found their expenses were $8217.70 higher than for controls after 2 years. This study suggests that further research is warranted to unravel the true benefits of HDHP membership among patients with diabetes, according to the researchers.
Reference
Wharam JF, Zhang F, Morton-Eggleston EB, et al. Abstract 114-OR/114. Effect of high-deductable insurance on acute diabetes complications. Presented at: ADA 76th Scientific Sessions; June 10-14, 2016; New Orleans, LA.