June 20, 2016
Empagliflozin Slowed Kidney Disease Progression, Decreased Renal Events vs Placebo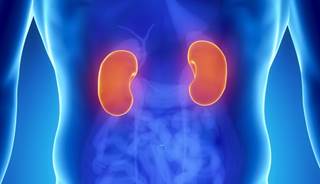 Empagliflozin slowed the progression of kidney disease in patients with type 2 diabetes at high cardiovascular risk.
NEW ORLEANS — When added to standard care, empagliflozin yielded slower progression of kidney disease and reduced the rates of clinically relevant renal events compared with placebo in patients with type 2 diabetes, according to results of an EMPA-REG OUTCOME trial subanalysis.
"Although [hemoglobin A1c] lowering was minimal in stages 3a and 3b chronic kidney disease (estimated glomerular filtration rate [eGFR] 30 to 60 mL/min/1.73m2), the renal protective effect was still pronounced," Christoph Wanner, MD, study investigator with Würzburg University Clinic, Würzburg, Germany, told Endocrinology Advisor.
The findings were presented at the American Diabetes Association (ADA) 76th Scientific Sessions and published simultaneously in The New England Journal of Medicine.
Study Background
In 2015, Dr Wanner and fellow researchers of the EMPA-REG OUTCOME trial reported that empagliflozin, a sodium/glucose cotransporter-2 inhibitor, lowered the risk for major adverse cardiovascular events among patients with type 2 diabetes who were at high risk for cardiovascular events. The aim of the present subanalysis was to establish the long-term renal effects of empagliflozin, which was a prespecified component of the secondary microvascular outcome of that trial.
The study included 7020 patients with type 2 diabetes from 590 sites in 42 countries. Patients had an eGFR of ≥1.73 m2 of body-surface area and were randomly assigned to empagliflozin (10-mg or 25-mg dose) or placebo once daily.
According to Dr Wanner, the mean eGFR of 74 mL/min/1.73m2 was a mild impaired kidney function, and patients with an eGFR <30 mL/min/1.73m2 were excluded from the study.
"From such a population, you would not expect a large number of patients with end-stage kidney disease requiring renal replacement therapy in a relatively short period of time," he said. "Therefore, we were uncertain to obtain a meaningful number of patients with a hard renal endpoint. For that reason, a composite was created with the plan to evaluate the subcomponents of the renal endpoint separately."
Specifically, incident or worsening nephropathy, defined as progression to macroalbuminuria, doubling of serum creatinine level, initiation of renal-replacement therapy, death from renal disease, and incident albuminuria served as the prespecified renal outcomes.
Median treatment duration was 2.6 years, and median observation time was 3.1 years.
'Encouraging' Results
Compared with the placebo group, those in the empagliflozin arm had significantly lower rates of incident or worsening nephropathy (12.7% vs 18.8%; hazard ratio [HR]=0.61; 95% confidence interval [CI], 0.53-0.70; P<.001) and doubling of serum creatinine level (1.5% vs 2.6%; HR=0.56; 95% CI, 0.39-0.79; P<.001).
In addition, incidence of renal replacement therapy was lower in the empagliflozin group (0.3% vs. 0.6%; HR=0.45; 95% CI, 0.21-0.97; P=.04).
No significant differences were reported between groups in the rate of incident albuminuria, and patients with impaired kidney function at baseline who were given empagliflozin had a similar adverse-event profile to those in the overall trial population.
"In patients with type 2 diabetes mellitus at high cardiovascular risk, empagliflozin slowed the progression of kidney disease when added to standard care," Dr Wanner concluded. "There was also a significantly lower risk of clinically relevant renal events."
In an accompanying editorial, Julie R. Ingelfinger, MD, of Massachusetts General Hospital, Boston, and Clifford J. Rosen, MD, of the Maine Medical Center Research Institute, Scarborough, compared the EMPA-REG OUTCOME and LEADER trials, and wrote that although there may have been differences in participants that account for the positive results in both trials, these differences alone do not fully explain the outcomes.
"We are left with differences that appear encouraging, yet are not a 'home run' with regard to the management of diabetes," they wrote. "In the coming years, controlled and comparative effectiveness trials that uniformly combine newer agents with older agents may help to delineate an even more effective treatment plan for the millions of people whose lives are affected by type 2 diabetes."
References
Wanner C, Inzucchi SE, Lachin JM, et al. Empagliflozin and Progression of Kidney Disease in Type 2 Diabetes. N Engl J Med. 2016;doi:10.1056/nejmoa1515920.