August 16, 2016
Why Do Some People Eat More Than They Think?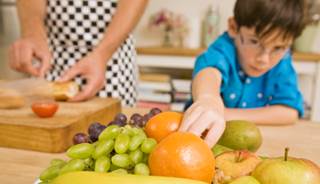 Visibility and convenience of healthier foods may help overweight and obese patients make better choices.
Taking steps to change the visibility and convenience of some foods may help patients adopt healthier eating patterns, according to nutrition expert James Painter, PhD, RD.
While speaking at the American Association of Diabetes Educators (AADE) 2016 Annual Meeting, Dr Painter, adjunct professor at the University of Texas Health Sciences Center at Houston, told clinicians that several simple steps can make a huge difference in how successful overweight and obese patients with diabetes are in the long term.1
"It is important for endocrinologists to understand mindful eating techniques and food consumption principles that decrease calorie intake to help their patients maintain proper weight," said Dr Painter, who is also emeritus professor at Eastern Illinois University, Charleston, Illinois.
He explained that the mind is just as important as the stomach in making eating decisions. Portion sizes are increasing, particularly at fast food restaurants, and in general, meals at restaurants in the United States are getting larger. These meals include super-sized items such as hamburgers, soft drinks, and French fries. Package sizes also influence people, according to Dr Painter.
He noted, however, if a person has a visual cue that tells them to stop eating before they are overly full, that person will eat less but feel just as satisfied. Visibility and convenience also affects how we eat. For example, more candy will be eaten if it is on the desk as opposed to if it is in the desk or a few feet away. Dr Painter said that diabetes educators can offer strategies for people struggling with weight gain.
"There are food consumption techniques that can be used successfully to improve dietary quality. Doctors can help their patients by teaching them to consume nutrient-dense foods, encouraging them to believe that they can improve their diets, and holding them accountable," Dr Painter told Endocrinology Advisor.
He suggests patients do self-monitoring and write down everything they eat. They should be counseled about visual cues, such as dish size. He emphasized that patients should be educated about the right types of food to select, such as those that are higher in protein and fiber but lower in sugar.
Choosing the right kind of breakfast is paramount, according to Dr Painter. He noted that one study found that those eating an egg-based breakfast had a 61% greater reduction in BMI than those eating a bagel-based diet.2 The researchers conducted a 3-way, crossover design with 30 healthy men (mean age, 21.7 years). Each participant was randomly assigned to 1 of 3 test breakfasts on 3 separate occasions. The breakfasts consisted of eggs on toast, cornflakes with milk and toast, or a croissant and orange juice.
The researchers found that the breakfast meal with the greatest effect on satiety and subsequent intake of energy was the diet with eggs. The egg diet contained the highest protein and lowest carbohydrate content relative to the other 2 breakfasts.
"Higher-protein breakfasts that contained eggs were associated with greater weight loss compared to higher-carbohydrate breakfasts in weight loss studies," said Dr Painter.
Once again, he noted, the more visible a food is, the greater the consumption. While this is true for candy on the desk, it is also true for healthier choices. Consumptions of vegetables can be increased if they are left on the counter as opposed to being hidden, Dr Painter said.
Dr Painter reports no relevant financial disclosures.
References
Painter J. M12 - Food Psychology: Why We Eat More than We Think. Presented at: AADE 2016; August 12-15, 2016; San Diego, CA.