August 17, 2016
Artificial Pancreas Moving Steadily Toward Commercial Approval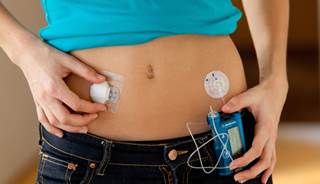 The FDA hopes to bring the artificial pancreas to physicians and patients soon.
The artificial pancreas may soon be commercially available, according to Courtney Lias, PhD, of the Office of In Vitro Diagnostics and Radiological Health at the Food and Drug Administration (FDA).
During a presentation at the American Association of Diabetes Educators (AADE) 2016 Annual Meeting, Dr Lias told attendees that the finish line is nearing, and an artificial pancreas device would not have to be perfect with zero risk to be beneficial.
"The FDA feels very strongly that automated insulin delivery device systems will provide people with diabetes significant benefits," she said. "The FDA's efforts include prioritizing the review of research protocol studies, providing clear guidelines to industry, setting performance and safety standards, fostering discussions between government and private researchers, sponsoring public forums, and finding ways to shorten study and review time."
The approval decision is based on whether the benefits outweigh the risks, and in this case, the decision for or against approval is made in the context of the significant risks patients with diabetes face every day due to their disease. There is great anticipation for approval of an artificial pancreas device because so many patients still struggle to maintain good glycemic control, noted Dr Lias. She explained that better quality of life is what the FDA and clinicians are hoping for with the device.
The FDA's efforts to help advance the development of an artificial pancreas device system are multifaceted. The agency refers to these devices as automated insulin delivery devices.
An automated insulin delivery device automatically monitors blood glucose and provides appropriate insulin doses to patients with diabetes who use insulin. Dr Lias said types of automated insulin delivery systems include insulin only, bihormonal (eg, insulin and glucagon), hypo-/hyper-minimizers, "treat-to-target," "hybrid" closed loop with which patients still require meal bolus, and fully closed-loop automated insulin delivery systems with which patients require little to no intervention.
Dr Lias highlighted some of the preliminary results of pivotal trials for novel automated insulin delivery devices. She also identified areas where the FDA, investigators, industry, and the health care provider community need to work together to implement these new types of devices in the coming years.
"Most of these devices will be intended to be used in children as well as adults, and the studies to support approval would typically be done in both populations. One message for endocrinologists to know would be that the FDA has been working with the sponsors to incorporate appropriate safety mitigations into the studies based on the device and its features," Dr Lias told Endocrinology Advisor.
She said an example might be to have oversight and monitoring by an adult caregiver or a companion. The purpose of FDA's work in this area, Dr Lias noted, is to ensure that the clinical study of these devices is safe and will ultimately provide a sound basis for the FDA's review of the safety and effectiveness of these devices.
"In addition, the health care community will need to engage with FDA and industry to develop new understanding of how to train patients in optimal use of these new systems," said Dr Lias. "Endocrinologists should know that the FDA is aware that some patients with diabetes may be modifying medical devices themselves in an effort to take control of their own health and development of tools to make their lives easier. We want to caution that doing so could lead to harm if the device fails, and we find it concerning when people modify devices used on other people."
The FDA has engaged very proactively with the diabetes community over the last several years to better understand their needs, according to Dr Lias. She explained that the FDA recognizes that many stakeholders play a role in the development of an automated insulin delivery system, including researchers, clinicians, medical device designers, and manufacturers. Dr Lias said the FDA has been working to encourage the collaboration among these groups.
Reference
Lias C. F11 - FDA Guidance on Closed Loop Artificial Pancreas Systems: From DIY to FDA Approved. Presented at: AADE 2016; August 12-15, 2016; San Diego, CA.