August 15, 2016
Greater Awareness of NAFLD, NASH in Diabetes Needed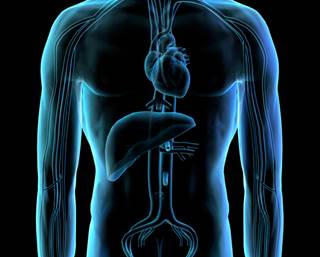 Nonalcoholic fatty liver disease may affect health outcomes in diabetes.
Several issues related to nonalcoholic fatty liver disease (NAFLD) and nonalcoholic steatohepatitis (NASH) may overlap in patients with diabetes and clinicians should be aware of the driving factors, according to Jamie Wolosin, MD, chief of the department of medical specialties at Sharp Rees Stealy Medical Group, San Diego, California.
Dr Wolosin, who discussed this topic at the American Association of Diabetes Educators (AADE) 2016 Annual Meeting, said NAFLD and NASH are extremely common and are related to the obesity epidemic. Insulin resistance and genetics are the driving factors, he noted.
"[NAFLD/NASH] is a very common disorder that is linked to obesity, type 2 diabetes, insulin resistance, and metabolic syndrome. It is present in greater than 50% of overweight patients with type 2 diabetes. Its presence is associated not only with increased liver morbidity and mortality but also cardiovascular disease," said Dr Wolosin.
Although NAFLD alone is relatively benign, he explained, NASH has significant morbidity risk. NAFLD is defined as hepatic steatosis with no other known cause of hepatic fat accumulation and no evidence of excessive alcohol use. Excessive alcohol use in this case is defined as 3 drinks per day for men and 2 drinks per day for women. NAFLD is also defined by the presence of fat via imaging or biopsy of the liver.
The current standard of care for NAFLD/NASH calls for sustained gradual weight loss along with exercise, noted Dr Wolosin. Pharmacologic therapies for NASH currently are in early stages of development.
"This is an important area for endocrinologists to address because it is so closely linked to type 2 diabetes, and several of the current medications for diabetes may be beneficial for treatment of fatty liver. These include pioglitazone and exenatide," said Dr Wolosin.
Treatment of NAFLD/NASH not only involves weight loss and exercise but also steps to decrease liver enzymes, improve lipids, and improve quality of life. Weight loss medication may provide a benefit, according to Dr Wolosin, but exercise has benefits independent of weight loss.
"As the mainstay of treatment for this condition is diet, exercise, and weight loss, nurse educators play a critical role," he said. "Fatty liver disease is very common, affecting up to 46% of the general population and a higher percentage of obese patients with type 2 diabetes. Fatty liver is one of the top causes of liver failure in the United States, and these numbers will rise dramatically over the next 10 years."
Drinking more than 3 cups of coffee per day has been associated with lower hepatic fibrosis levels in patients with alcoholic liver disease, hepatitis C, and NASH in observational studies, noted Dr Wolosin. Studies have also suggested that bariatric surgery may benefit some patients with NAFLD. However, there are not a lot of published data.
"The same lifestyle and diet modifications that work for type 2 diabetes mellitus and heart disease work for fatty liver, which is, in part, also a disease of insulin resistance. New medications will be available in the next 5 years for treatment of fatty liver, but now there are limited studies to suggest the benefit of vitamin E, pioglitazone, obeticholic acid, and possibly exenatide in treatment of fatty liver. However, none have FDA approval for this indication," said Dr Wolosin.
Dr Wolosin reports no financial disclosures.
Reference
Wolosin J. D13 - What Do Diabetes Educators Need to Know About NAFLD and NASH? Presented at: AADE 2016; August 12-15, 2016; San Diego, CA.