August 15, 2016
AADE16: Embracing and Celebrating Change in Diabetes Education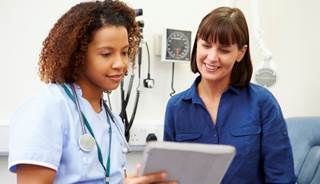 New technologies and shifting paradigms in health care are changing how diabetes educators practice.
Greetings from AADE16, the annual meeting of the American Association of Diabetes Educators (AADE) being held in San Diego, California!
This year, Hope Warshaw, MMSc, RD, CDE, BC-ADM, president of AADE, addressed more than 3600 attendees and set the stage for the week by focusing her speech on the theme of "Embrace Change, Strengthen Our Future, Celebrate." Warshaw discussed the use of social media as a way to support the transformation of heath care from volume to value and the focus on the goal of chronic disease prevention. As educators, we are challenged to be efficient and effective, and deliver services where and when our patients want it. Lightening-speed changes in technology can support this.
Warshaw reminded us that we are evolving in our practice paradigms. So much has changed in the past 40 years. Prediabetes was not on our radar; there were few options for oral hypoglycemic agents or insulin; and urine testing was how glucose control was measured at home. Blood glucose testing was just emerging. As educators, we taught by didactic lecture. Today, we have so many more opportunities including teleheath and technology. AADE's focus on both of these are through strategic planning, including a technology work group. As technology evolves, we need to arm our educators with the skills and knowledge needed to work in the digital world.
The person with diabetes has always been the center of AADE's mission. The strategic plan focuses the sphere of influence that educators can have in supporting those with diabetes. Today the sphere of influence includes prevention and delay by including the Diabetes Prevention Program (DPP) curriculum within selected diabetes self-management education (DSME) programs. Importantly, the Centers for Medicare & Medicaid Services (CMS) has recently announced the support of payment for implementation of the DPP and is reviewing the current benefit for DMSE.
There are many changes within the health care environment. Several "Change Champions" were recognized at the conference for the work they do in disparate environments, and multiple areas where diabetes educators can lead the way to improved care were also highlighted. All educators were called upon to mentor those who are new to practice or seek out mentors. We were challenged to work with our primary care colleagues to ensure that diabetes education is received by all persons with diabetes
I believe these are exciting times for improving health care for individuals as well as different populations. We as educators need to have the skills and willingness to lead the changes necessary to support this. Cleary, as Warshaw said, we need to embrace and celebrate these changes.
Joan K. Bardsley, MBA, RN, CDE, FAADE, is Assistant Vice President of Special Projects at MedStar Health Research Institute, and 2014 President of the American Association of Diabetes Educators.