June 15, 2016
Saroglitazar May Help Treat Nonalcoholic Fatty Liver Disease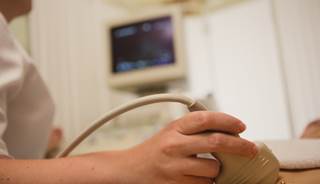 Saroglitazar may be beneficial in nonalcoholic fatty liver disease.
ORLANDO, Fla. — Saroglitazar, a dual PPAR-α/γ agonist that has been available for the last 2 years in India for the treatment of diabetic dyslipidemia, is now showing promise for treating nonalcoholic fatty liver disease (NAFLD), according to one study.
Researchers reported the results at the American Association of Clinical Endocrinologists (AACE) 25th Annual Scientific & Clinical Congress.
Shashank Joshi, MD, associate professor of psychiatry and behavioral sciences at Stanford University School of Medicine in California, and colleagues evaluated the safety and efficacy of this agent in patients with NAFLD-associated dyslipidemia.
The team conducted a single-center, single-arm, prospective, open-label study of saroglitazar in 221 patients with type 2 diabetes and associated dyslipidemia. All the patients underwent ultrasound screening for the presence of NAFLD and only those with sonographic evidence of NAFLD were included.
More than half (58.37%) were men with a mean age of 58 years. Mean BMI was 28.9 and median duration of diabetes was 6.5 years. All the patients were taking antidiabetic medications and almost half (47.96 %) were on a statin. The median baseline HbA1c was 8.9% and median baseline triglyceride levels were 321 mg/dL. All the patients continued usual care and added saroglitazar 4 mg once daily. The researchers conducted a follow-up at 12 weeks and again at 24 weeks.
They found that triglyceride levels were reduced to 129 mg/dL and HbA1c levels were reduced from 8.9 % to 8.1% at 24 weeks of treatment. Results showed that more than one-third of patients (86 of 221) showed sonographic improvement in fatty liver and 68 patients experienced normalization of liver enzymes. The serum alanine aminotransferase (ALT) value was reduced from a median baseline of 89 U/L to 21 U/L at 24 weeks. No serious adverse events were reported.
There is a serious unmet clinical need when it comes to treating NALFD and NASH, which are known to be hepatic manifestation of metabolic syndrome, according to the researchers. There are no approved therapies for treating NAFLD or NASH.
These study data, however, show that saroglitazar could be a potential therapeutic option for the treating NAFLD and NASH associated with metabolic syndrome, they noted. Consequently, a biopsy-driven, randomized, controlled clinical trial is warranted to establish the efficacy of saroglitazar in patients with NAFLD and NASH, the researchers concluded.
For more coverage of AACE 2016, click here.
Reference
Saboo B, Joshi S. Abstract 240. Clinical Observational Study Evaluating Efficacy of Saroglitazar in Type 2 DM Patients Having Hypertriglyceridemia at Tertiary Care Centre in India. Presented at: AACE 25th Annual Scientific & Clinical Congress; May 25-29, 2016; Orlando, FL.